Gas Tungsten Arc Welding (GTAW)
Gas Tungsten Arc Welding (GTAW)
Gas tungsten arc welding is our specialty at Lynn Welding.
Specializing in GTAW. Tungsten inert gas (TIG) welding services for aerospace and defense applications.
GTAW approved Welder: 42" diameter titanium ring with 24 X-rayed weld joints.

Aluminum duct assembly Welded by NADCAP approved welders.

Inconel housing tach welded per AWS D17.2.

GTAW welding per Mil-W-8611 of stainless steel fuel system components.

Titanium component welded in a vacuum chamber.

Stainless steel welded component for the civil aerospace market.

Aluminum Aerospace Tooling component by Lynn Welding, a GTAW approved Welder

Stainless Steel Aerospace tube weldments.

Class A, Type 1 Aluminum Welding - We are a GTAW approved Welder

Manual Gas Tungsten Arc Welding (GTAW) per Mil-STD-2219 Stainless Steel Class A.

Titanium components welded in a vacuum chamber.

Manual Gas Tungsten Arc Welding (GTAW) per AWS D17.1.
GTAW (Gas Tungsten Arc Welding)
Precision TIG welding can be used and applied to different industries such as aerospace, medical and automotive. GTAW process is suitable for welding all material due to electrode is not melting during the welding operation.
The electrode is made of tungsten alloy which can tolerate a very high temperature and would allow to weld at low current and weld as thin as 0.005-inch-thick material.
Filler material or welding wire/rod is used externally and will be consumed during the welding process. Precision GTAW can be performed using DCEP (Direct Current Electro Positive) which focuses on heating the electrode and DCEN (Direct Current Electro Negative) which focuses on heating more the base material.
AC is typically used when welding aluminum because it helps with the cleaning as well and to prevent potential porosities and cracks.
Inert gas is used during the precision welding process and it works as a shield to protect the weld from contamination. Usually Argon is the most common gas for the GTAW process and sometimes helium is used as well.
The GTAW Process
The GTAW process is very clean process and requires high skilled welders to perform the welding. That is the reason that GTAW is used for very critical application such as the aerospace industry. GTAW produces a high-quality weld to assure successful joint and great appearance.
Here is a photo below shows the element used in the GTAW process.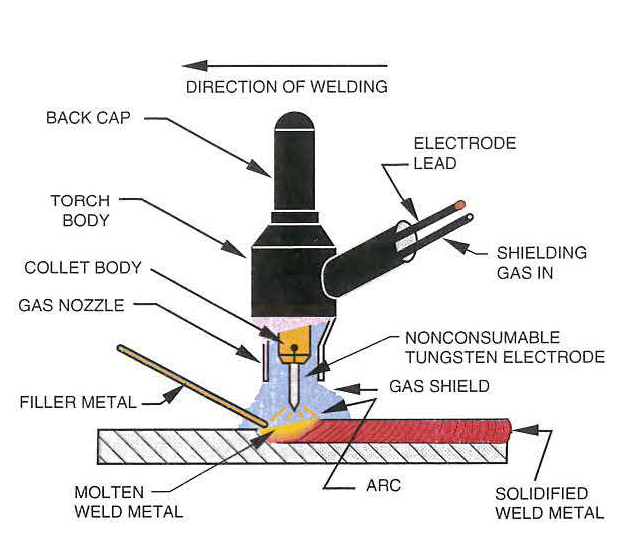 Source: American Welding Society
One of the potential issues to watch for while using the precision GTAW process is contamination. The base material and the filler material have to be extremely clean to produce a high-quality weld. If the base material, filler material is not clean and there was some moisture surrounding the weld area, that would affect the quality of the weld and perhaps will lead to potential defects.
Our team is trained and experienced to produce a high-quality weld and successful results. We often consider GTAW as the more glamourous welding process.
Lynn Welding is qualified to weld per AWS D17.1, PWA 16, MIL-STD-2219, HS 191 and many other aerospace welding certifications.
Lynn Welding is AWS D17.1 Certified, view our other precision aerospace welding approvals below.
Lynn Welding's Gas Tungsten Arc Welding (GTAW) Approvals
Tell Us About
Your Gas Tungsten Arc Welding (GTAW) Project
QUOTES WITHIN 24 HOURS
Exceeding Expectations!
---
"
Your welds looked perfect- better than the original welds.
"
-Dan P