Metal Insert Gas (Gas Metal Arc Welding)
Lynn Welding provides Nadcap accredited fusion welding services and specializes in GMAW (Gas Metal Arc Welding).
Mig Welding of Aluminum

Lynn Welding Specializes in MIG Welding - GMAW (Gas Metal Arc Welding)

Mig Welding Services in CT, NY, & MA

Gas Metal Arc Welding (GMAW) Mig Welding Company

Professional Mig Welding for Aerospace Applications
MIG Welding or GMAW (Gas Metal Arc Welding)
The MIG welding process is different than the TIG welding and has different application in material joining.
GMWA main character is feeding the electrode/filler material continuously through the welding gun. In this is case the electrode is melted and deposited into the base material to create the weld joint.
The shielding gas is created from the welding gun as well to help protecting the weld from contamination. GMAW uses inert gas as well by using argon and helium and some would use carbon dioxide as it depends on the type of application and the material you are using.
The electrode is consumable and mainly comes in spools. According to the American Welding Society, the electrode is identified by letters ER and numbers after that present a unique characteristic. Each character is an identification for the wire, and it is strength.
For example the first two letter ER presents the electrode, the second two numbers present the strength of the filler material in PSI, the forth letter presents wire type (S) which is solid wire for instance, the last number presents the chemical composition.
For example, ER-70S-2 or ER 70S-6 as each number and letter shows a unique identification of the electrode.
A photos GMAW process element.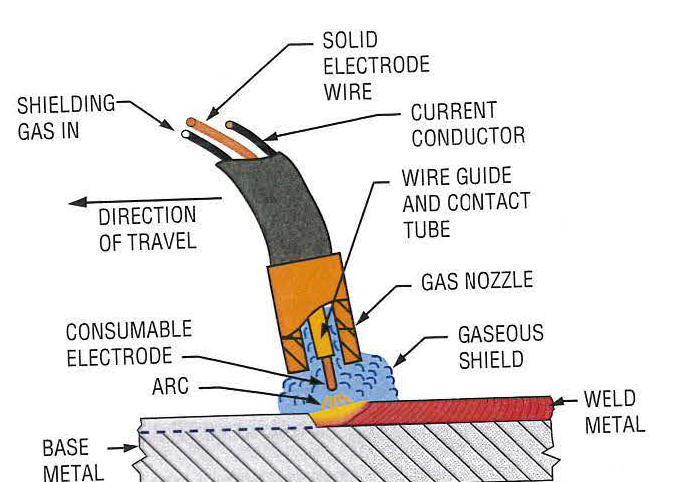 Source: America Welding Society
There are different types of the metal transfer and they all use different voltages and current to achieve best weld results.
GMAW has four-metal transfer which are globular transfer, pulsed arc, short circuiting, and spray transfer. Each method is used based on the material and application used.
See below different types of metal transfer showing spray, globular and short-circuiting transfer.

Source: American Welding Society
The wire and the base material have to be clean to produce a quality weld. Any contamination will affect the weld as the GMAW tends to lose more shielding gas than the GTAW.
Lack of penetration is another challenge when using the GMAW process however with an experience welder, correct set up and right method of depositing, penetration can be achieved.
We often consider GMAW as the more heavy-duty process as it is designated for structural welding application.
Our team well qualified and experienced to perform GTAW and GMAW to produce quality, clean and successful weld.
Lynn Welding is qualified to perform GMAW process per AWS D1.1, D1.2 and D1.6.
Hope you enjoyed reading the article and learned a little about each process!
Lynn Welding's GMAW Welding (MIG) Approvals
Tell Us About
Your GMAW Welding (MIG) Project
QUOTES WITHIN 24 HOURS
Exceeding Expectations!
---
"
Parts were very high quality, communication and response to requests was very quick and delivery times were held to the date promised and quoted. Very good service all around, will definitely use you guys again.
"
-Jesse K